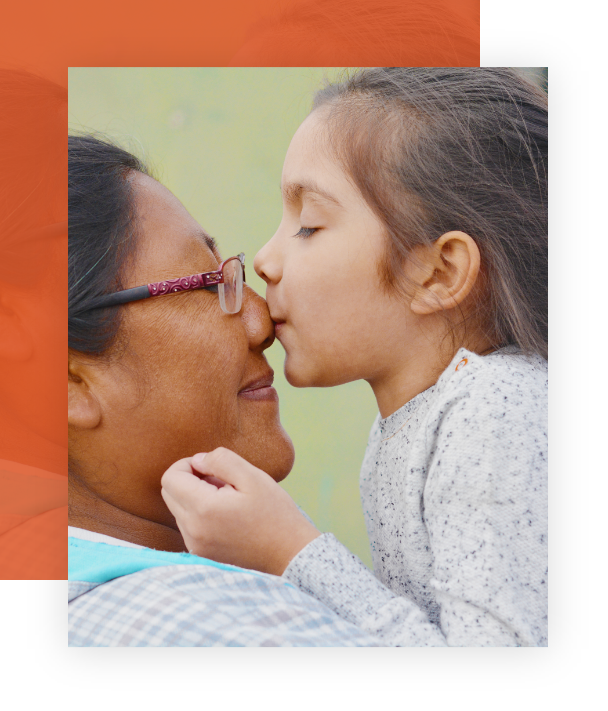 About
Our Vision: To collectively strengthen CHCs' capacity to achieve just, healthy, and equitable communities across California.
Community Health Centers (CHCs) are pivotal for achieving health equity and community well-being that requires both effective organizations and robust and diverse leaders who can act as change agents to address racism as a root cause of inequity for Black, Indigenous, and People of Color (BIPOC).
The Leadership Equity Program (LEP) was developed in response to the need for greater alignment between the communities accessing care provided by CHCs and the diversity of their future C-suite leaders. To address this need, the Leadership Equity Program (LEP) offers a cohort-based program for emerging C-suite leaders and capacity-building for their respective CHC executive team to:
Prepare the next generation of C-suite leaders who have the skills, knowledge, and passion required to mitigate health disparities and
Strengthen community health center capacity to advance diverse leaders and expand organizational innovations and place-based strategies centered on anti-racism, health equity, and community well-being.
Program Structure
The Leadership Equity Program (LEP) takes a systemic approach to leadership development, as a process of discovery, intersection, and transformation at the individual, organizational, community, and socio-political levels.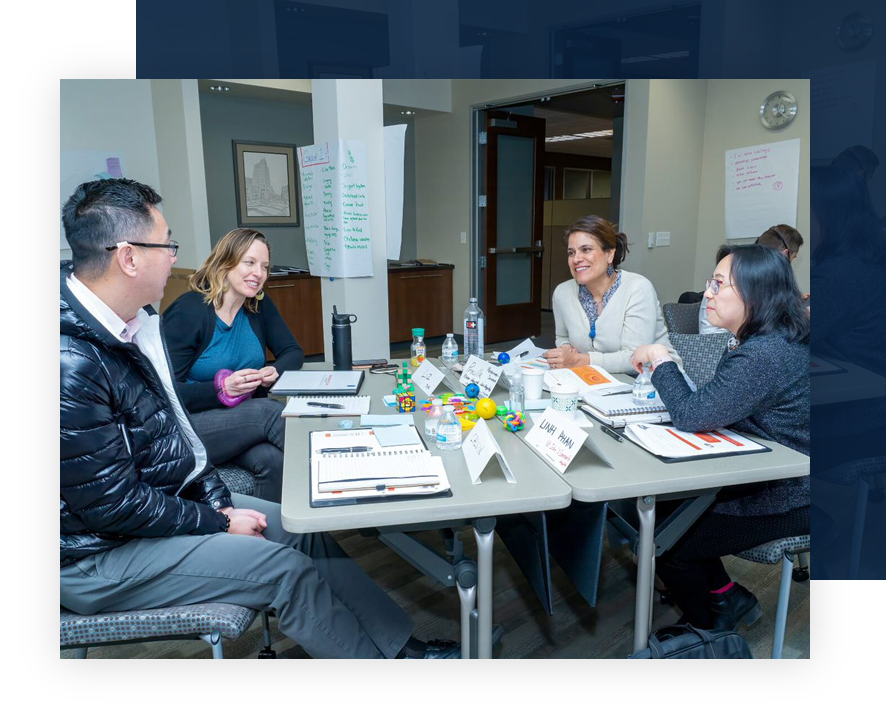 Cohort Curriculum
Anti-racism & Racial Equity
Participants will become familiar with race equity theory & history, examine current trends and impact on healthcare models and delivery, explore implications of implicit biases and structural racism, and strengthen their capacity to implement anti-racist policies and practices that address the impact of racism on health outcomes and mitigate racial health disparities for BIPOC communities.
Leadership Development
Participants will assimilate core tenets of Inclusive and Adaptive Leadership – examining personal biases, identifying key traits of an effective leader, and understanding the importance of engaging authentically and with the purpose to drive change and create an organizational culture of inclusion and belonging.
Health Center Operations
Participants will develop leadership skills in human resources, operations, health information technology, and finance and payment reform to advance innovation and person-centered-, value-based-, and population-based approaches to care delivery, centered on the principles of justice, equity, diversity, and inclusion.
Community Well-being
Participants will develop a capstone project that addresses their organizational and community needs and leadership goals; apply their learning and understanding of using data, policies, and community voice for leadership decision-making; and build a balanced strategy to address equity and advance well-being for their surrounding communities.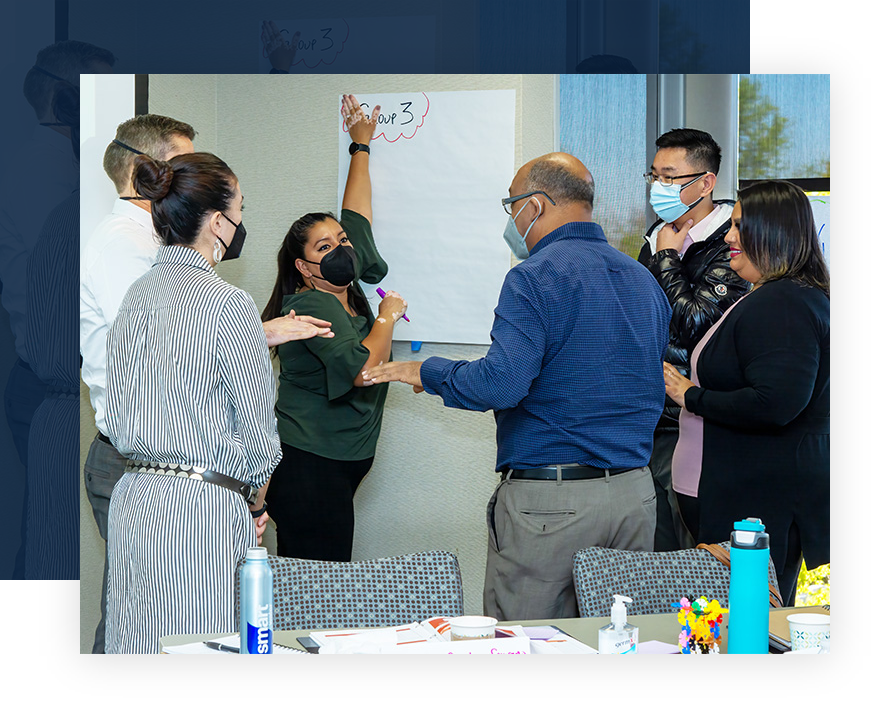 Capacity Building
The LEP capacity-building design will support your CHCs executive team leaders to advance your nominated emerging C-suite leader(s)now participating in the LEP cohort to expand organizational innovations and place-based strategies centered on Justice, Equity, Diversity, and Inclusion (JEDI).
The capacity building design will be delivered through virtual sessions, asynchronous learning, organizational coaching, peer-peer learning and cohort engagement opportunities.
Capacity Building Program Delivery
Program Costs

A total investment of $12,500 is required to participate in the LEP Cohort which is a bundled rate per-cohort participant and capacity building for the participating CHC. The sponsoring CHC is responsible for reimbursing the participant's travel and other incidental costs for attending training and other program events. There has been a cost increase this year due to additional consulting and coaching offered as part of the LEP capacity building. There will be four two-hour sessions offered for cohort 2, which is an increase from the two sessions offered for cohort 1.
Join Us
The first cohort will begin late January 2023 and will complete the program in approximately ten months (The official start date will be announced in November 2022).
LEP participant(s) must be nominated by CHC executive leadership that they envision entering the C-suite within 1-5 years, and nominated participants should:
Multiple participants may be nominated and require completing a separate nomination form for each nominee.
Are you a CHC executive leader who would like to nominate participant(s) to join our LEP Cohort 2?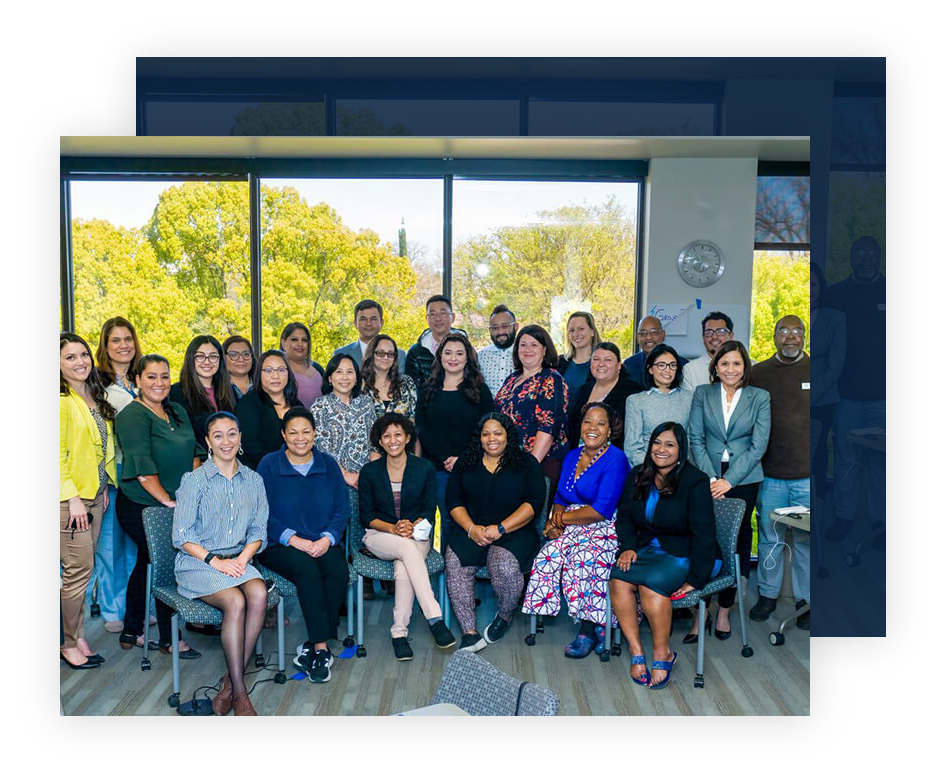 Buddy Orange, MSOD
Senior Vice President of Justice, Equity, Diversity & Inclusion (JEDI)
California Primary Care Association  
Val Gotingco Sheehan, MPH
Senior Vice President & Chief Program Officer
California Primary Care Association  
Lizbeth Bayardo, MPH
Assistant Director of Leadership Equity
California Primary Care Association
LaSonja Hill, M.Ed.
Senior Administrative Assistant
California Primary Care Association
Alvaro Fuentes
Chief Executive Officer
Redwood Community Health Coalition
Andrea Schwab-Galindo, MPH
Chief Executive Officer
Tiburcio Vasquez Health Center
Anitha Mullangi MD, MHCM
Chief Medical Officer
St John's Well Child and Family Center
Britta Guerrero
Chief Executive Officer
Sacramento Native American Health Center, Inc
David B. Vliet, MBA
Chief Executive Officer
LifeLong Medical Care
Kimberly S.G. Chang, MD, MPH
Family Physician, Director of Human Trafficking and Healthcare Policy
Asian Health Services
Melissa Marshall, MD
Chief Executive Officer
CommuniCare Health Centers
Sayeed Khan, MD
Chief Medical Officer
Molina Healthcare of California
Consulting Teams
Mmapeu Consulting
Diane Johnson, Ph.D, CEO & Founder
Claudia Morales Senior, Consultant
Cianna Walker-Flom, Consultant
Mey Saechao, Director of Operations
Samantha Hyland, Program Administrator/ Executive Assistant
Well-being and Equity (We) in the World
Somava Saha, MD, MS, Executive Lead
Seth Fritsch, MPH, Project Manager and Curriculum Development
Kelley Gray, MASJ, Project Manager
Kirsten Meisinger, MD, Coach
Lena Hatchett PhD, Coach
Yolanda Roary, MA, Coach